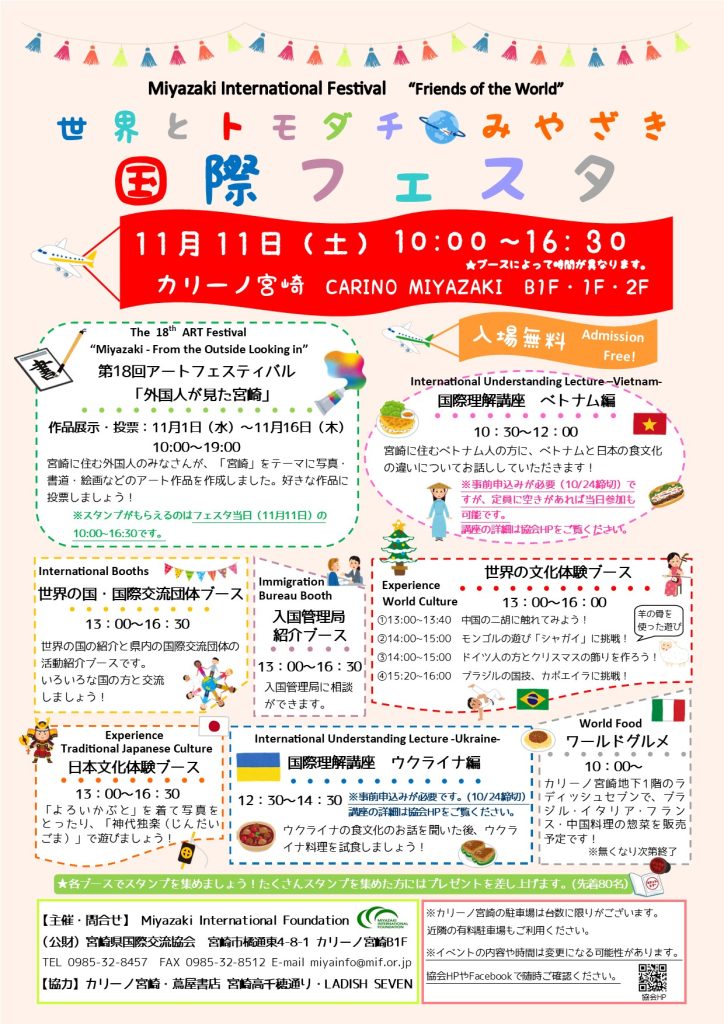 Date: November11th (Sat) 10:00 am – 4:30 pmVenue : B1, 1F, 2F Carino Miyazaki
★18th Annual Art Festival "Miyazaki -From the Outside Looking in" Art Gallery
Featured artworks are made in the theme of Miyazaki by foreigners living in Miyazaki. Vote for your favorite artwork. Your vote will decide the winner!
◇Display period:11/1(Wed)~11/16(Thu) 10:00~19:00
◇Location:B1 Carino Miyazaki 
★International Understanding Lecture – Vietnam
A lecturer from Vietnam will talk about Vietnamese food culture. *Advance application is required.
◇Time:10:30~12:00   ◇Location:B1 Carino Miyazaki
★International Understanding Lecture – Ukraine 
After listening to stories about Ukrainian food culture, let's sample Ukrainian cuisine! *Advance application is required. See below for details.
◇Time:12:30~14:30   ◇Location:B1 Carino Miyazaki            
★World Culture experience booths
Booths where you can experience musical instruments, games, crafts, and more from around the world.
◇Time:13:00~16:00       ◇Location:B1 Carino Miyazaki
◇Contents:
13:00~13:40 Let's experience the Chinese 'erhu'!
14:00~15:00 Try the Mongolian game 'Shagai'!
14:00~15:00 Let's make Christmas decorations with a lady from Germany!
15:20~16:00 Try "Capoeira", the national sport of Brazil!
★Traditional Japanese culture workshop
Try on Japanese-style armour and helmets and play Japanese games.
◇Time:13:00~16:10       ◇Location:B1 Carino Miyazaki
★Immigration Bureau introduction booth
You can consult with the Immigration Bureau.
◇Time:13:00~16:30       ◇Location:B1 Carino Miyazaki
★International Exchange Group Booth
We are planning to have exhibitions from countries such as Canada and Bangladesh, as well as international exchange organizations within the prefecture.
◇Time:13:00~16:30       ◇Location:1F 2F Carino Miyazaki
★World Food
Ladish Seven, in the basement of Carino Miyazaki, will be selling foreign side dishes.
◇Time:10:00~ ends as soon as stock runs out.
*On the day of the festival, stamp rallies will be held at the exhibitions, courses, and the other booths except the World food booth! Those who collect all of the stamps will receive a gift.(Scheduled: arriving 80 people)
*Contents and times are subject to change. Please check our website and Facebook.