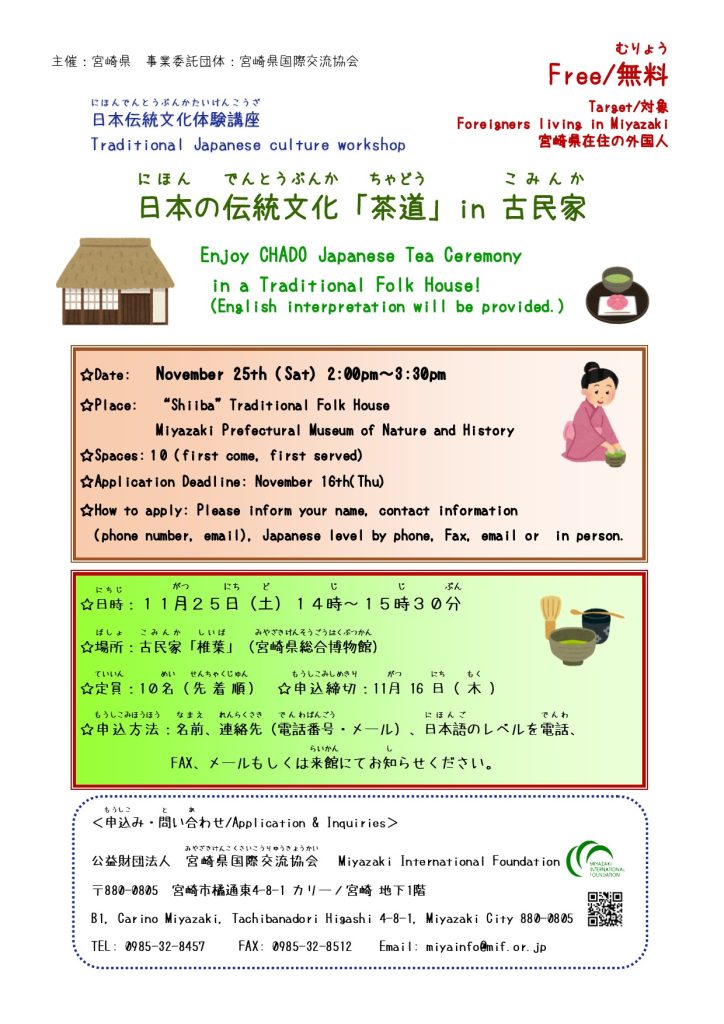 Traditional Japanese Culture Workshop for foreign residents in Miyazaki
Enjoy "CHADO", Japanese Tea Ceremony in a Traditional Folk House!
We are going to hold a Traditional Japanese Culture Workshop on "CHADO", traditional Japanese tea ceremony in November, featuring a performance by a 'CHADO'lecturer. The venue, a traditional folk house"Shiiba"was built about 150 years ago, and is designated as an important cultural property of Miyazaki Prefecture. Enjoy traditional Japanese "CHADO" in a relaxing atmosphere!
What is "CHADO"?
CHADO is a Japanese traditional etiquette of preparing and drinking tea, and was initially called ''chayu''and originally developed from China. Although the main purpose is to enjoy tea, the manner, performance, tea equipment, tea room, and the decoration of the tea room are also important and aspects of the art as a whole.
Date:November 25th(Sat.) 2:00pm~3:30pm
Place: Traditional folk house "Shiiba", Miyazaki Prefectural Museum of Nature and History
Spaces: 10(first come, first served)
Cost: Free
Application deadline: November 16th (Thu.)
How to apply: Please let us know your name, contact information (phone number, email) and Japanese level by phone, FAX, email or in person.
Application & Inquiries: Miyazaki International Foundation
B1 Carino Miyazaki, Tachibanadori Higashi 4-8-1, Miyazaki City 880-0805
TEL 0985-32-8457 FAX 0985-32-8512 Email miyainfo@mif.or.jp