Online Japanese Language Course using Zoom (Central Miyazaki)㉕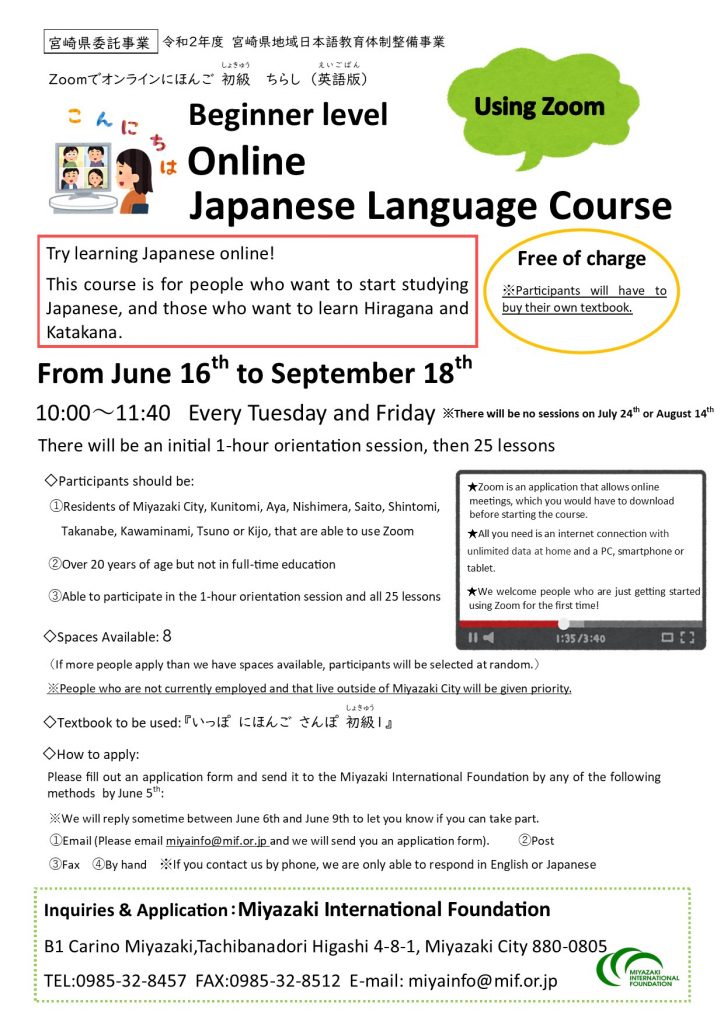 Currently recruiting participants!(~June 5th)
Try learning Japanese online!
This course is for people who want to start studying Japanese, and those who want to learn Hiragana and Katakana.
Zoom is an application that allows online meetings, which you would have to download before starting the course.
All you need is an internet connection with unlimited data at home and a PC, smartphone or tablet.
We welcome people who are just getting started using Zoom for the first time!
Schedule:
10:00~11:40, Every Tuesday and Friday from June 16th to September 18th (※There will be no sessions on July 24th or August 14th)
There will be an initial 1-hour orientation session, then 25 lessons
Participants should be:
① Residents of Miyazaki City, Kunitomi, Aya, Nishimera, Saito, Shintomi, Takanabe, Kawaminami, Tsuno or Kijo, that are able to use Zoom
② Over 20 years of age but not in full-time education
③ Able to participate in the 1-hour orientation session and all 25 lessons
Spaces Available: 8
If more people apply than we have spaces available, participants will be selected at random.
(※People who are not currently employed and that live outside of Miyazaki City will be given priority.)
Textbook to be used: 『いっぽ にほんご さんぽ 初級1』
※The course is free of charge, but participants will have to buy their own textbook.
How to apply:
Please fill out an application form and send it to the Miyazaki International Foundation by any of the following methods:
Application Form
https://www.mif.or.jp/english/news-and-topics/793/
① Email (Please email miyainfo@mif.or.jp and we will send you an application form).
② Post
③ Fax
④ By hand
※You can also apply online via Google Forms.
https://forms.gle/ghPnqCeNa4UeiTps6
Inquiries/Application:
Miyazaki International Foundation
B1 Carino Miyazaki,Tachibanadori Higashi 4-8-1, Miyazaki City 880-0805
Tel:0985-32-8457 Fax:0985-32-8512 E-mail:miyainfo@mif.or.jp
※If you contact us by phone, we are only able to respond in English or Japanese